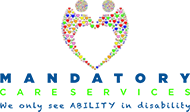 Mandatory Care Services (MCS) continues to closely monitor and respond to the coronavirus (COVID-19) based on the latest advice from the Australian Federal Government and/or the responsible state and local health authorities.
Mandatory Care Services (MCS) is continuing to work hard to support our community and is focused on providing vital supports and services, where it is safe to do so. We recognise that this is a particularly anxious time for everyone and encourage you to contact us if you have any queries or questions.
The majority of our services are open, but in line with the new social-distancing measures, some services are being suspended to protect the health and wellbeing of staff and participants, while others are being adapted to new ways of delivery. An overview of our current services and supports is as follows:
ADJUSTED SERVICES
All services and supports provided by Mandatory Care Services (MCS) are tailored as per the requirements of the participants
• Morning and evening shopping support for elderly participants
• School time inhouse support for young participants
If you have any questions about your service, please contact the Director Muhammad Ali on 1300 627 111.
ADDITIONAL  NDIA COVID-19 SUPPORT
The NDIA has announced a package of COVID-19 measures for NDIS providers and participants. These new measures will inject much-needed cash into the provider sector as it prepares for and responds to the challenges that COVID-19 will have on people with disability, their families and carers, and on providers and their workforces.
The new measures, to support participants, include:
• Plans to be extended by up to 24 months, to ensure continuity of support and to direct planning resources to urgently required plan reviews.
• Planning to be done via telephone meetings where possible.
• More flexibility in the use of capacity building funds (shifting it to core where necessary).
• An 'action plan' to ensure NDIS participants and families continue to receive essential disability supports.
To find out more information, visit the NDIS.gov.au.
PROTECTING YOUR HEALTH
Promoting good hygiene and adopting social-distancing measures are still the best form of defence against the virus. Aspect has adopted strict hygiene practices and is asking all our staff, students, participants and clients to follow the World Health Organisation's recommendations to:
• Frequently wash hands using soap and water or an alcohol-based hand rub
• When coughing or sneezing, cover your mouth and nose with a tissue, or flexed elbow, then throw away the tissue immediately and wash your hands
• Avoid close contact with anyone who has a fever or cough
Any staff member, student, participant or client who is unwell should not attend an Aspect site, until all symptoms are completely resolved.
OUR ACTIONS
As part of the community and an essential Services mandatory Care Services has taken some actions to reduce the spread of COVID-19:
• Disinfecting the office and all company vehicles on regular basis
• Observing social distancing and reducing the number of people in the office to 3 at any one time
• Providing masks and gloves to staff members to use when caring for a client
MORE INFORMATION
Mandatory Care Services (MCS) is committed to keeping you updated on any new changes to our services based on new information and/or advice regarding COVID-19.
If you have any further questions you can contact us on 1300 627 111 or by emailing info@mandatorycareservices.com.au.
The Federal Government has established a COVID-19 hotline which is available 24 hours a day, 7 days a week to answer any additional questions you may have – 1800 022 222.
We appreciate your support during this unprecedented time. If you have any feedback about any of the information above, please let us know.