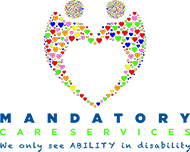 As we continue with the lockdown and self-isolation due to covid-19, Mandatory Care Services continues to deliver support to NDIS participants and prioritise support to meet the immediate needs of participants.
Under the guidance of NDIS and Department of Health, we are following every advice and information available to NDIS providers, complying with social distancing to ensure the safety of our community, participants and our staff.
According to the Premier of NSW Government, the state will be easing the current social distancing restrictions as of 1 May 2020, to allow two adults – and children –to visit other people for the purposes of care. The ease on restrictions will also allow elderly individuals and individuals with disability to socialise to ensure that people feel less isolated.
As an essential service, we are offering face to face services, where it is possible. However, we will continue to practice and remain extremely vigilant and respectful of the 1.5m social distancing while practicing strict hygiene.
If you are in self isolation or mandatory quarantine due to vulnerability or have been indicated by NSW Health and are struggling to afford food and groceries and do not have access to the delivery services. The state government can also help with an emergency relief package.
If you or anyone that you know is feeling unwell, have mild respiratory symptoms or have been around someone diagnosed with Covid-19. Please, contact your Doctor to arrange for a consultation.
For More information on our services, please contact 1300 627 111.
For more information on the current situation from federal and state government, please visit Health.gov.au and NSW.gov.au.