Disability Rights
Many people will have a disability at some stage in their lives. For some, the disability will be temporary. Others may be affected for a lifetime.
Whatever the type of impact of a disability, everyone has the right to be an active member of their community and to have a say in the decisions that affect their lives.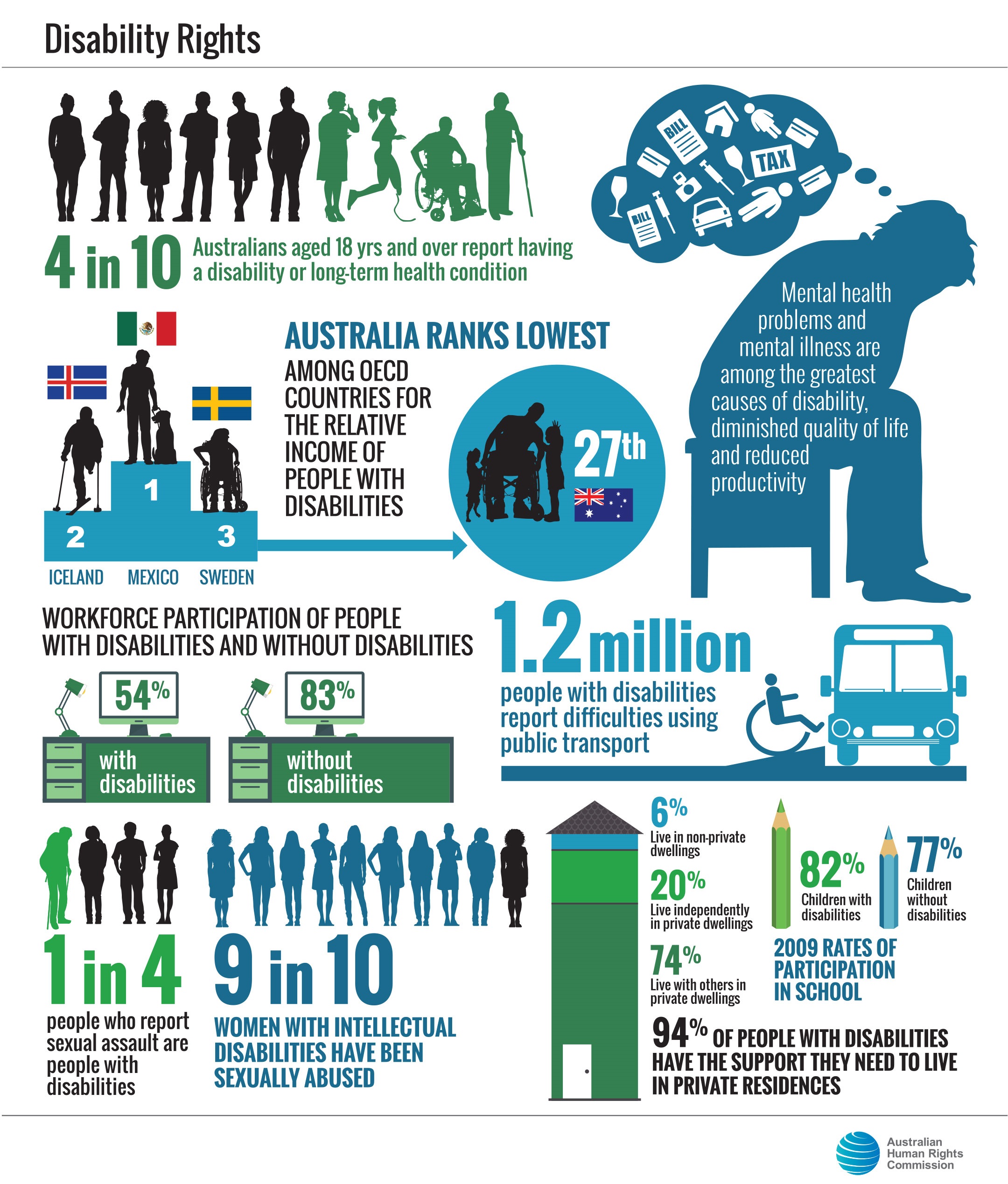 The United Nations Convention on the Rights of Persons with Disabilities, which Australia ratified in 2008, sets out the role of governments to make this a reality.
However, negative attitudes, physical barriers and difficulties accessing necessary supports still limit the opportunities of people with disabilities to find work, study, socialize and be included in community life.
In Australia, the Disability Discrimination Act protects people across Australia from unfair treatment in many areas of public life. It also promotes equal rights, equal opportunity and equal access for people with disabilities.
About people with disabilities
Around 6.8 million Australians (40 percent) aged 18 years and over report having a disability or long-term health condition.
Most people with disabilities (87 percent) are restricted in carrying out at least one everyday activity, such as self-care, mobility or communication.
The likelihood of having a disability increases as people age. For example, 7 percent of children aged under 15 years, 15 percent of people aged 15 to 64 years and over half (53 percent) of people aged 65 years and over report having some form of disability.
Key issues for people with disabilities
People with disabilities are more likely to experience poverty, live in poor quality or insecure housing and have low levels of education. They are often socially isolated, with fewer opportunities to take part in community life.
Mental health problems and mental illness are among the greatest causes of disability, diminished quality of life and reduced productivity.
Australia ranks lowest among OECD countries for the relative income of people with disabilities. Overall employment rates for people with disabilities remain low, with workforce participation at around 54 percent compared to 83 percent for people without disabilities.
In NSW, young people with mental health disorders and/or cognitive impairment are at least six times more likely to be in prison compared with young people without disabilities.
Despite progress towards making all public transport in Australia fully accessible by 2022, 1.2 million people with disabilities report difficulties using public transport.
Research has shown that more than a quarter of people who report sexual assault have a disability.[11] 90 percent of women with intellectual disabilities have been sexually abused.
Positive developments 
Children with disabilities had significantly higher rates of participation in school compared to children without disabilities (82 percent and 77 percent respectively). This reflects a growing number of children with disabilities staying in school for longer.
Most people with disabilities (94 percent) have the support they need to live in private residences; 74 percent live with others and 20 percent live alone. People with disabilities are also more likely to own their own home outright (24 percent) compared with people who do not have disabilities (16 percent).
In July 2013, the National Disability Insurance Scheme was rolled out in Tasmania, South Australia, Victoria (Barwon area) and NSW (Hunter area). From July 2014, it will commence across the ACT and in the Northern Territory (Barkly region) and Western Australia (Perth Hills area). The full national scheme will commence progressively from July 2016.
Contact our friendly staff and see how we could benefit you in making your life happier, easier and healthier.
[Source: https://www.humanrights.gov.au/]